Regular price
$169.95 AUD
Regular price
$194.80 AUD
Sale price
$169.95 AUD
Unit price
per
SAVE
Sold Out
Treat yourself to a spa-like experience every time you step into your shower. This collection features everything you need to pamper yourself from head to toe, and leave your skin feeling nourished and rejuvenated.

Includes a 300 mL body wash, 175g body scrub, 100 mL Native Extract Treatment Oil and a high fired stoneware bathroom display tray.
Mineral Body Wash
 300 mL
This cleansing bath & shower concentrate, with added magnesium, creates a milky smooth lather when applied onto skin or foaming bubbles when poured under running water into your bath. Select your body wash blend below.
Magnesium Body Scrub
175
g
An invigorating body scrub consisting of a magnesium gel that contains solid sea salt particles. Apply to dry skin and rub gently to exfoliate and promote magnesium absorption. Aromatherapy blend: RESTORE, an invigorating recovery blend of pink grapefruit and lemon, with a hint of basil.
Native Extract Oil
100 mL
Designed to be deeply moisturising, yet is refined and lightweight. Take time out from the world, soothe away stress and enjoy skin and hair that is radiant. Aromatherapy blend: Lavender, Ylang Ylang, Lemon, Petitgrain
Special Edition Rectangle Bathroom Display Tray
A modern minimalist piece to match our iconic stoneware tonic measures.
These high fired stoneware pieces are designed, artfully crafted and hand glazed to order in Australia by Robert Gordon. The process is so hands-on, it takes up to 6 skilled craftspeople to create every single piece. The special edition bathroom tray is finished in Poppyseed, a creamy glaze with delicate black 'poppyseed' flecks achieved through a reactive firing process that makes every piece unique.


Hydrate your skin while you absorb a dose of natural magnesium. Stimulate your senses with an aromatherapy blend of pure essential oils. You'll emerge relaxed and rejuvenated, just like stepping out of a day spa.
Magnesium Body Scrub

Apply the scrub to dry (rather than wet) skin and rub gently to exfoliate and promote magnesium absorption. For best results, leave on for 5-10 minutes. Rinse off in the shower or, if you're bathing, lie back, relax and soak in the magnesium. Use 2-3 times per week for skin that feels wonderfully smooth and polished.

Mineral Body Wash

BODY:
Pump concentrate into hands or loofa and lather. Massage over body. Best applied all over body in shower or bath onto wet skin. Suitable for everyday use and all skin types.

BATH:
Pump approx. 2 tablespoons of concentrate under warm running water to create foaming bubbles. For the ultimate bathing experience, add 100mL Bath Tonic, for a luxurious, milky white foaming bath.

Native Extract Treatment Oil

SKIN
Massage over body using long, firm, gentle strokes. Best applied before or after shower/bath to lightly damp skin. Use as needed. Suitable for all skin types.

HAIR
Add one pump between palms, rub together and run through nearly dry hair or apply directly onto scalp and massage into hair using gentle circular motions for 5-10minutes. Leave for one hour or overnight. Wash and condition as usual.
RESTORE | Detox & Rejuvenate
Formulated to invigorate and assist recovery, this uplifting blend will leave your mind and body refreshed and renewed. Scented with natural essential oils: Pink grapefruit, lemon and a hint of basil.
SLEEP WELL | Rest & Relax
Formulated to promote feelings of relaxation and soothe tired bodies and minds, this tranquil blend is ideal just before bed. Scented with lavender, mandarin, geranium, cedarwood, bergamot and chamomile natural essential oils.
ONSEN | 温泉
A soothing and uplifting blend inspired by Japan's traditional hot springs. Scented with a blend of cedarwood, hinoki cypress and yuzu pure essential oils.
EASE WORK STRESS | Unwind & Let Go
A gentle citrus-based blend formulated to assist stress relief and relaxation. Perfect after a busy day's work. Scented with geranium, mandarin, lemon and orange natural essential oils.
POST-WORKOUT | Soothe & Recover
A recovery blend formulated to help soothe aching muscles and joints. Scented with eucalyptus, rosemary, lemongrass, cajeput and peppermint natural essential oils.
Our bath tonics, scrubs, washes and oils are made from the very best natural ingredients and are scented with an aromatherapy blend of 100% pure, natural essential oils.
We sustainably source our magnesium chloride from the Zechstein Sea in the Netherlands, the world's purest source of natural magnesium chloride.
100% Natural.
Paraben free.
Not tested on animals.
Vegan friendly.
Made in Melbourne.

Natural Magnesium Body Scrub
Purified Water, Magnesium Chloride (30%), Sea Salt, Hydroxypropyl Starch Phosphate (Corn Derived), Pink Grapefruit Oil, Lemon Oil, Bergamot Oil, Lavindin Oil, Peppermint Oil, Geranium Oil, Basil Oil, Linalool Oil.

Native Extract Treatment Oil
Camellia Oleifera Seed Oil, Prunus Amygdalus Dulcis Seed Oil, Dicaprylyl Carbonate, Capric/Caprylic Triglycerides, Argania Spinosa Seed Oil, Macadamia Integrifolia Seed Oil, Vegetable Squalene, Tocopherol, Lavender Oil, Ylang Ylang Oil, Lemon Oil, Petitgrain Oil.

Mineral Body Wash
Water, Cocoamidopropyl Betaine, Sodium Lauroyl Sarcosinate, Coco-Glucoside, Glyceryl Oleate, Glyceryl Laurate, Pentylene Glycol, Caprylyl Glycol, Ethylhexylglycerin, Titanium Dioxide, Camellia Oleifera Seed Oil, Magnesium Chloride, Essential Oils.
View full details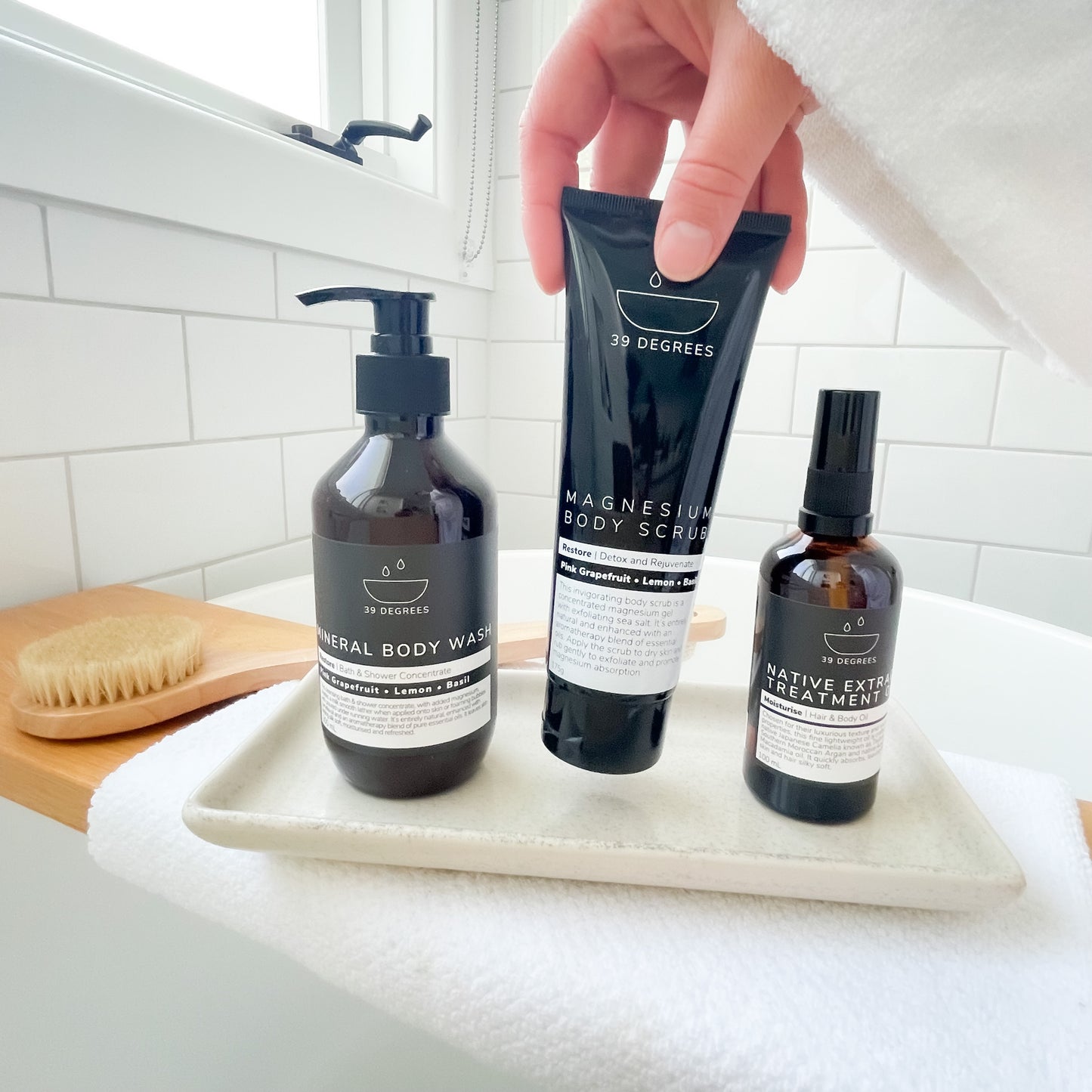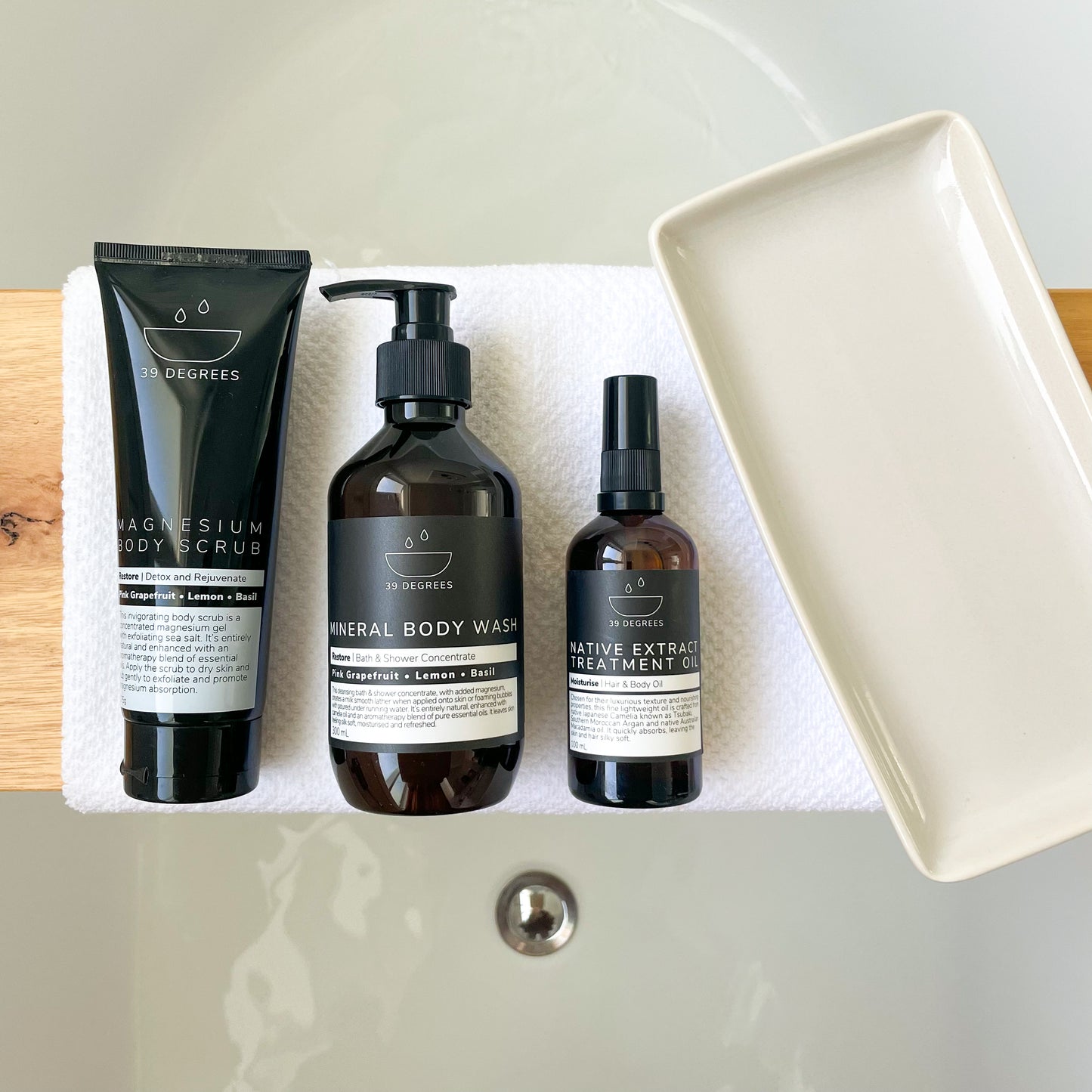 WHAT OUR CUSTOMERS ARE SAYING