Prepaid Twin Pack Subscription
Regular price
Sale price
$79.90 AUD
Unit price
per
SAVE
Sold Out
Prepay and have two 500 mL bath tonics delivered monthly or every two months. Choose a subscription length of 3, 6 or 12 deliveries and save 12.5%, 15% or 20%. Includes free standard shipping Australia wide.
Subscription details
Your payment method will be charged once (a one time payment) for the 3, 6 or 12 month subscription you select. Your first order will be dispatched within 3 business days. After that, your orders will be dispatched monthly or every two months. Orders will be shipped within 3 business days of the day of the month of your first order.
Optional gift box
For $14.95, your first order will be placed in a gift box and wrapped before packaging. Choose this option by ticking the box in your cart - and don't forget to write a message for the recipient.
Magnesium Bath Tonic
2 x 500 mL
Select an aromatherapy blend for each bottle below. You also have the option of swapping one or both 500 mL bottles for a Variety 4-Pack (4 x 100 mL Single Soaks)
Hydrate your skin while you absorb a dose of natural magnesium. Stimulate your senses with an aromatherapy blend of pure essential oils. You'll emerge relaxed and rejuvenated, just like stepping out of a day spa.
BATH
Add 100 mL to warm, swirling water. Remove jewellery, slip in and relax for at least 20 minutes.
FOOT BATH
Add 30 mL into 5 L warm, swirling water. Immerse feet, relax and enjoy for at least 20 minutes.
RESTORE | Detox & Rejuvenate
Formulated to invigorate and assist recovery, this uplifting blend will leave your mind and body refreshed and renewed. Scented with natural essential oils: Pink grapefruit, lemon and a hint of basil.
ONSEN | 温泉
A soothing and uplifting soak inspired by Japan's traditional hot springs. Scented with a blend of cedarwood, hinoki cypress and yuzu pure essential oils.
SLEEP WELL | Rest & Relax
Formulated to promote feelings of relaxation and soothe tired bodies and minds, this tranquil blend is ideal just before bed. Scented with lavender, mandarin, geranium, cedarwood, bergamot and chamomile natural essential oils.
EASE WORK STRESS | Unwind & Let Go
A gentle citrus-based soak formulated to assist stress relief and relaxation. Perfect after a busy day's work. Scented with geranium, mandarin, lemon and orange natural essential oils.
POST-WORKOUT | Soothe & Recover
A recovery blend formulated to help soothe aching muscles and joints. Perfect as a post workout soak. Scented with eucalyptus, rosemary, lemongrass, cajeput and peppermint natural essential oils.
MOTHERHOOD | Nurture & Comfort
A nourishing soak designed for new and expectant mums. A gentle blend featuring botanical Lavender, Ylang Ylang, Lemon, and Petitgrain, considered suitable for use during pregnancy and breastfeeding. Replenish your senses and enjoy a moment of pure relaxation and well-being.
Rotating Monthly Blend

January | RESTORE
February | SPECIAL EDITION
March | ONSEN
April | SLEEP WELL
May | SPECIAL EDITION
June | POST-WORKOUT
July | EASE WORK STRESS
August | SPECIAL EDITION
September | SLEEP WELL
October | RESTORE
November | SPECIAL EDITION
December | ONSEN



Our bath tonics are made from the very best natural ingredients and are scented with an aromatherapy blend of 100% pure, natural essential oils.
We sustainably source our magnesium chloride from the Zechstein Sea in the Netherlands, the world's purest source of natural magnesium chloride.
100% Natural.
Paraben free.
Not tested on animals.
Vegan friendly.
Made in Melbourne.
Bath Tonic Ingredients
| | | |
| --- | --- | --- |
| What's in it | Where it's from | What it is |
| Natural Magnesium Chloride | Ancient Zechstein Seabed | Essential Mineral |
| Helianthus Annuus Seed Oil | Sunflower Seed | Skin Moisturiser |
| Cocamidopropyl Betaine & Polyglyceryl-10 Laurate | Coconut | Skin Cleanser |
| Hydroxypropyl Starch Phosphate | Corn | Thickener |
| Sambucus Nigra Fruit Extract | Elderberry | Antioxidant |
| Titanium Dioxide | Anatase | Mineral Thickener & Pigment |
| Pure Essential Oils | Plant Derived | Aromatherapy Fragrance |
Full Ingredients
Purified Water, Magnesium Chloride, Helianthus annuus (Sunflower) Seed Oil, Cocamidopropyl Betaine (Coconut Derived), Polyglyceryl-10 Laurate (Derived from Coconut, RSPO Certified Sustainable Palm Oil), Hydroxypropyl Starch Phosphate (Corn Derived), Sambucus nigra (Elderberry) Fruit Extract, Titanium Dioxide, Pure Essential Oils.
View full details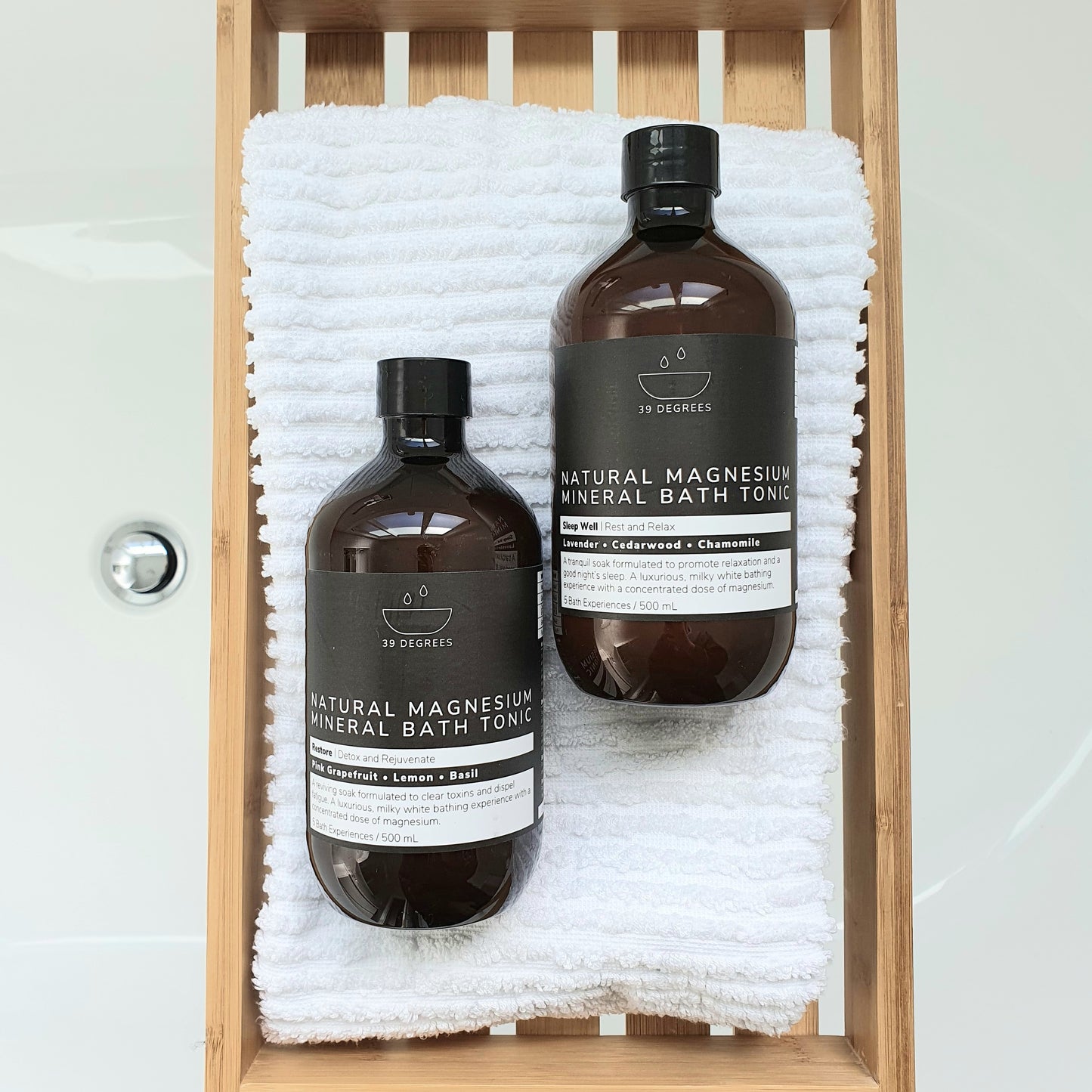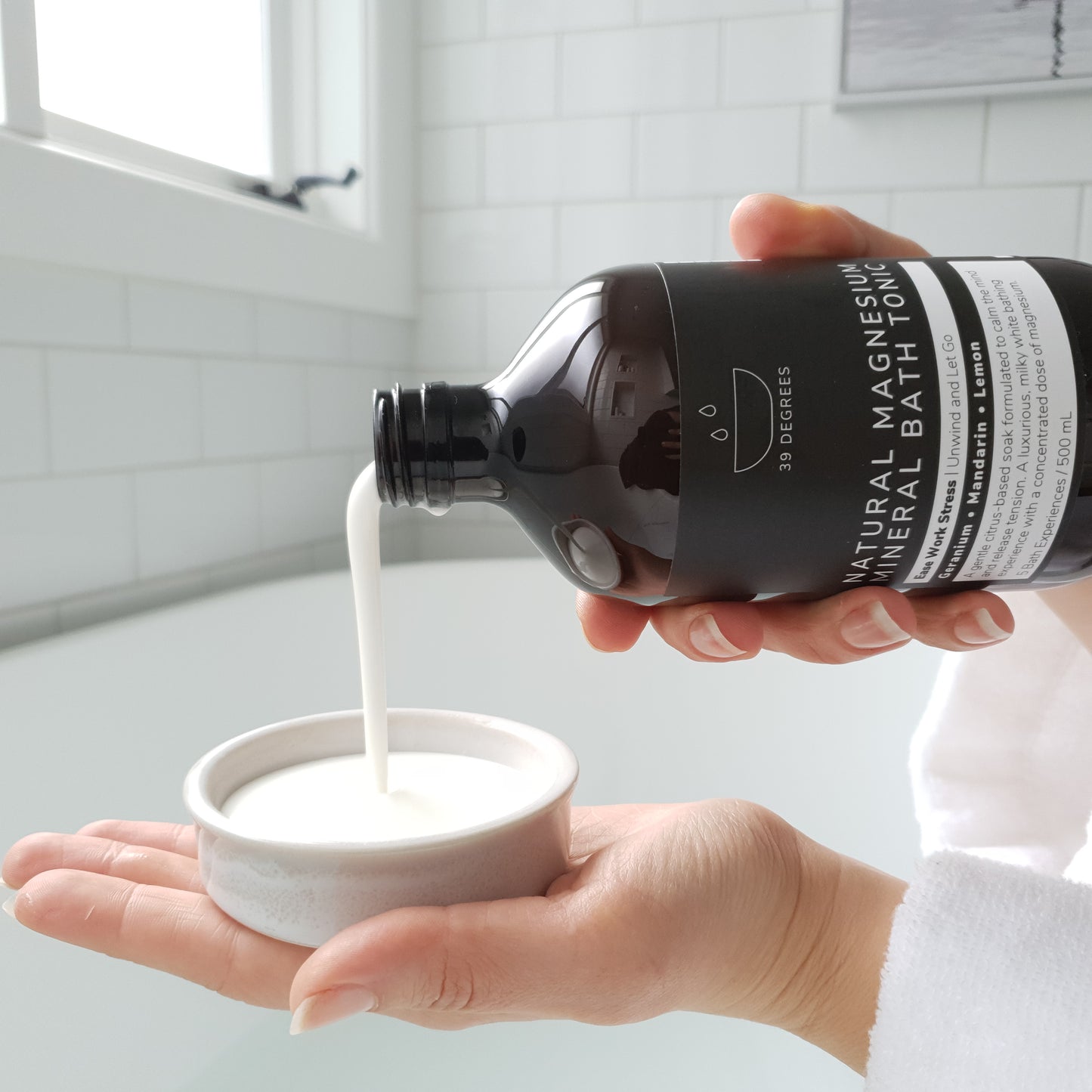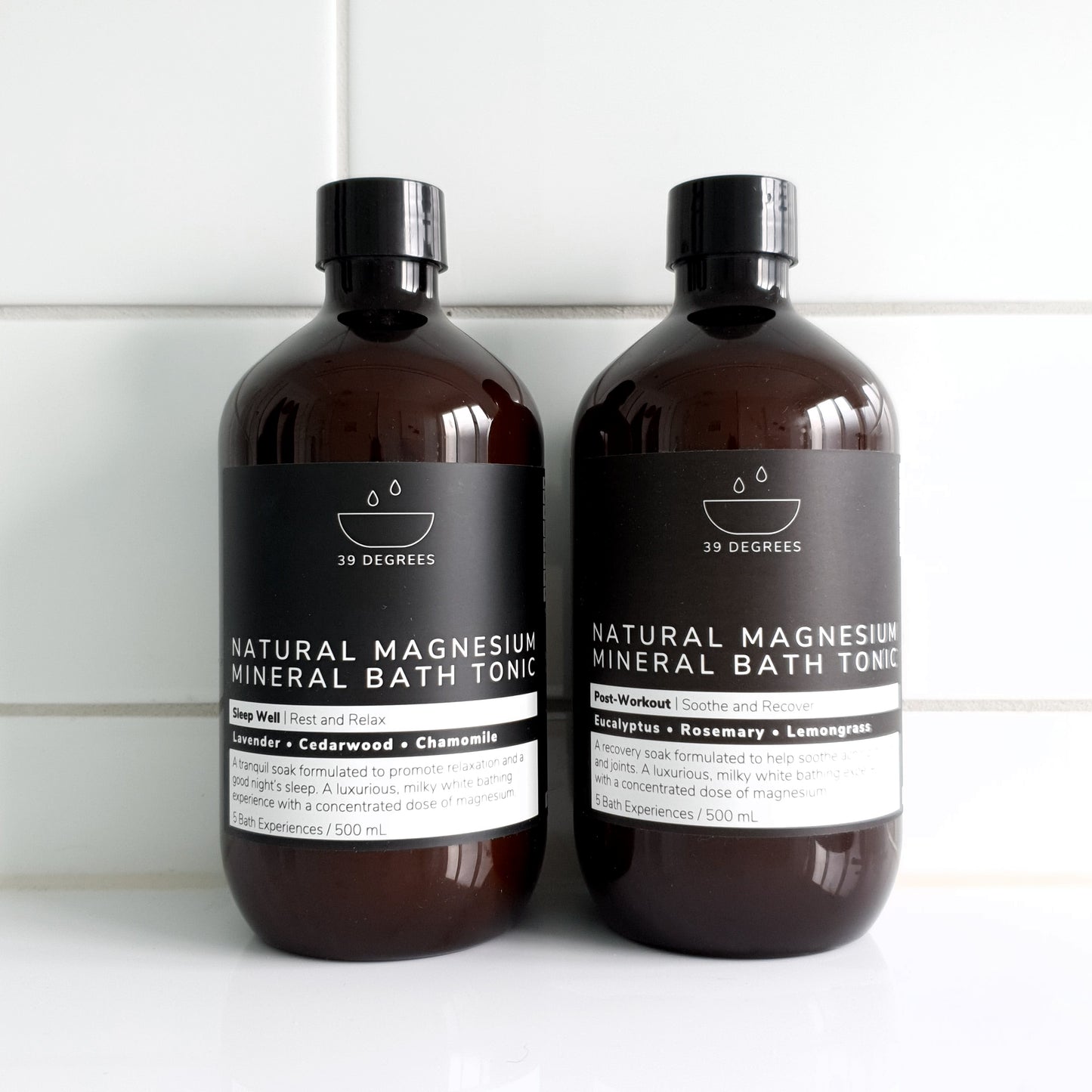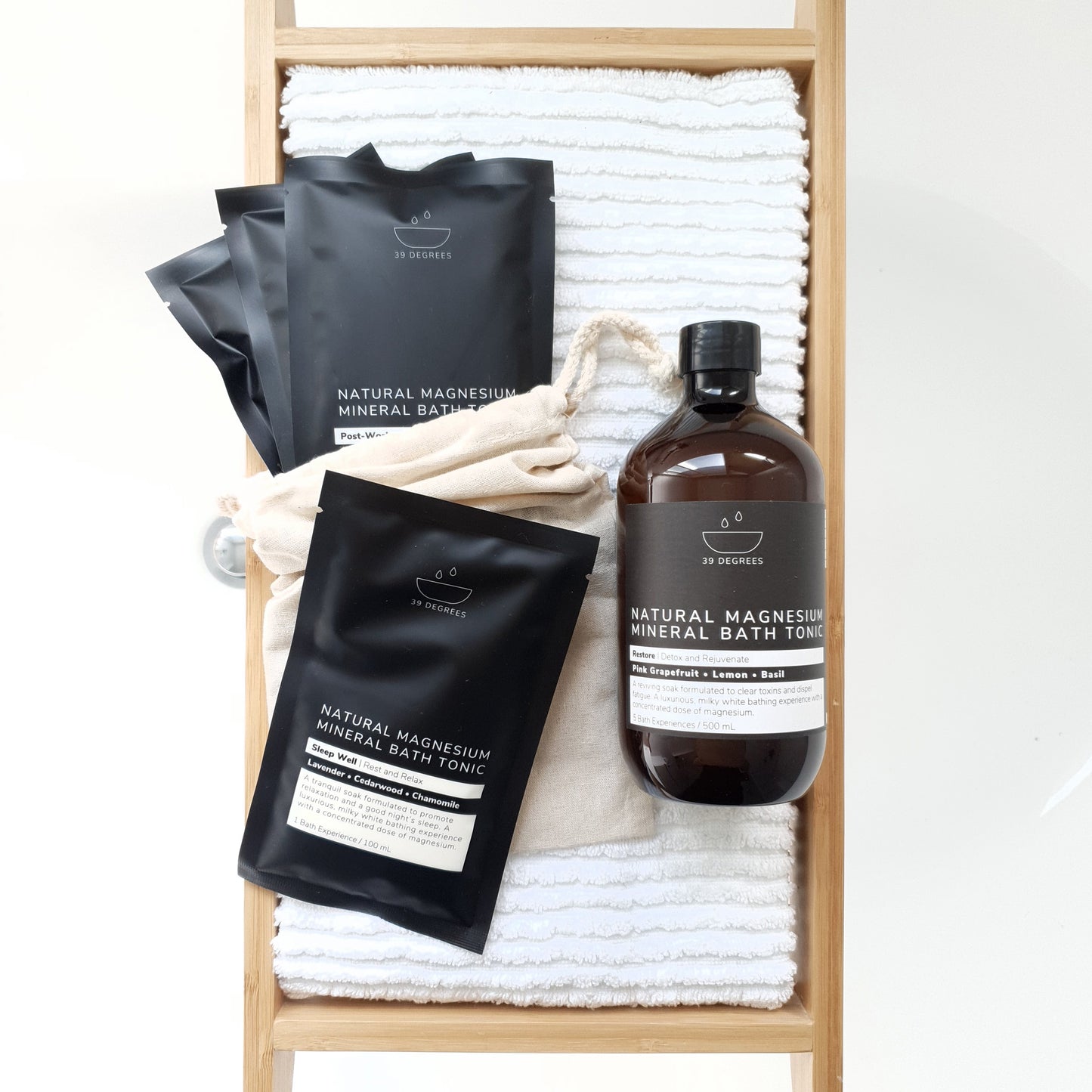 WHAT OUR CUSTOMERS ARE SAYING