Magnesium Bath Tonic 5-Pack Sampler + FREE Magnesium Oil
"...I was able to find the scents that I liked the most so I could buy them in the bottles." - Jamie D.
Regular price
$132.65 AUD
Sale price
$79.95 AUD
Unit price
per
SAVE
Sold Out
Discover the botanical scents of the 39 Degrees Bath Tonic collection with this 5-Pack sampler
20-min Stress-Reset Guarantee
FREE 125 mL Magnesium Oil Spray
FREE Cotton Canvas Pouch
Dive into a collection of five botanical Bath Tonics, each selected to instill calm and balance.
To enrich your experience, we've included our Magnesium Oil Spray, presented in a generous 125 mL bottle.
It's time to elevate your bath rituals and make a worthy investment in your own well-being.
WHATS INCLUDED:
• 5 Magnesium Mineral Bath Tonics 100 mL ($99.75 Value)
◦ 1 Sleep Well - Lavender, Cedarwood, Chamomile
◦ 1 Restore - Pink Grapefruit, Lemon, Basil
◦ 1 Onsen - Cedarwood, Hinoki, Yuzu
◦ 1 Ease Work Stress - Geranium, Mandarin, Lemon
◦ 1 Post-Workout - Eucalyptus, Rosemary, Lemongrass
• 1 Cotton Canvas Pouch ($2.95 Value)
• Free Shipping
Our trial packs were curated for you to sample our range. Please note, no further discounts apply.
We understand the demands of your beautiful, busy life.
That's why we're confident a mineral bath soak will become your secret weapon for rejuvenation.
If a 20-minute soak doesn't leave you feeling like the queen of your castle, we'll return every dollar you paid.
BATH TONIC

Add a small amount of warm water to an opened 100 mL pouch and swirl it gently. Pour the contents into the tub, and as you do, take three deep breaths, savouring the moment as the white mineral cloud gracefully envelops the clear water. Remove jewellery, slip in and relax for at least 20 minutes
MAGNESIUM OIL SPRAY

Remove jewellery, spray onto clean skin and lightly massage in. For external use only.
Average quantities of minerals in 100 mL of liquid tonic. We recommend 100 mL liquid tonic per bath.
Natural Mineral
mg/100mL
mg/1000mL (ppm)
Function
Mg Magnesium
5,000
50,100
Helps relax, reduce anxiety, ease stress. Supports muscle recovery, nerves, heart health and strong bones.
Cl Chloride
15,350
153,500
Helps relax, reduce anxiety, ease stress. Supports muscle recovery, nerves, heart health and strong bones.
K Potassium

127.9

1279
Helps reduce anxiety and stress, regulates heart rhythm, muscle contractions, and fluid balance.
B Boron

2.4
22.4
Supports bone health, brain function, and hormonal balance.
Si Silica

<100
<1000
Promotes healthy skin, hair, nails, and connective tissues.
RESTORE | Detox & Rejuvenate
Return to a state of well-being with the balancing extracts of Pink Grapefruit, Lemon, and Basil. Experience inner peace and renewed vitality as you rejuvenate your body from within.

ONSEN | 温泉
Embark on a tranquil journey to Japan's hot springs. Drift away with the warm, woody aroma of Cedarwood and Hinoki, while being invigorated by the enchanting fragrance of Yuzu. Embrace the authentic rejuvenation of this unique blend, and feel your stresses melt away, leaving you refreshed and renewed.

SLEEP WELL | Rest & Relax
Experience the power of dreamy Lavender, Cedarwood and Chamomile as they help promote feelings of calm and relaxation. This tranquil soak will help you effortlessly drift off to sleep.

EASE WORK STRESS | Unwind & Let Go
Unwind with the tranquil essence of Geranium, Mandarin, and Lemon, gently leaving behind your day's worries. Feel the tension melt away and embrace the serenity bathing in this rejuvenating blend, designed to provide stress relief and restore your sense of calm.

POST-WORKOUT | Soothe & Recover
Soothe your muscles with a calming blend of Eucalyptus, Rosemary, and Lemongrass, crafted to ease your body after enduring long hours on your feet or post gym workouts. Give your tired muscles the well-deserved recovery they need.


Each single soak contains 100 mL of the world's purest source of natural magnesium chloride and carefully selected botanical oils.
Our ingredients undergo meticulous testing to ensure their purity, authenticity, and quality.
Derived exclusively from natural sources and the earth itself.
• Vegan Friendly
• Made in Melbourne
• Female Founded
| | | |
| --- | --- | --- |
| What's in it | Where it's from | What it is |
| Natural Magnesium Chloride | Ancient Zechstein Seabed | Essential Mineral |
| Helianthus Annuus Seed Oil | Sunflower Seed | Skin Moisturiser |
| Cocamidopropyl Betaine & Polyglyceryl-10 Laurate | Coconut | Skin Cleanser |
| Hydroxypropyl Starch Phosphate | Corn | Thickener |
| Titanium Dioxide | Anatase | Mineral Thickener & Pigment |
| Pure Essential Oils | Plant Derived | Aromatherapy Fragrance |
Purified Water, Magnesium Chloride, Helianthus annuus (Sunflower) Seed Oil, Cocamidopropyl Betaine (Coconut Derived), Polyglyceryl-10 Laurate (Derived from Coconut, RSPO Certified Sustainable Palm Oil), Hydroxypropyl Starch Phosphate (Corn Derived), Titanium Dioxide, Pure Essential Oils.
View full details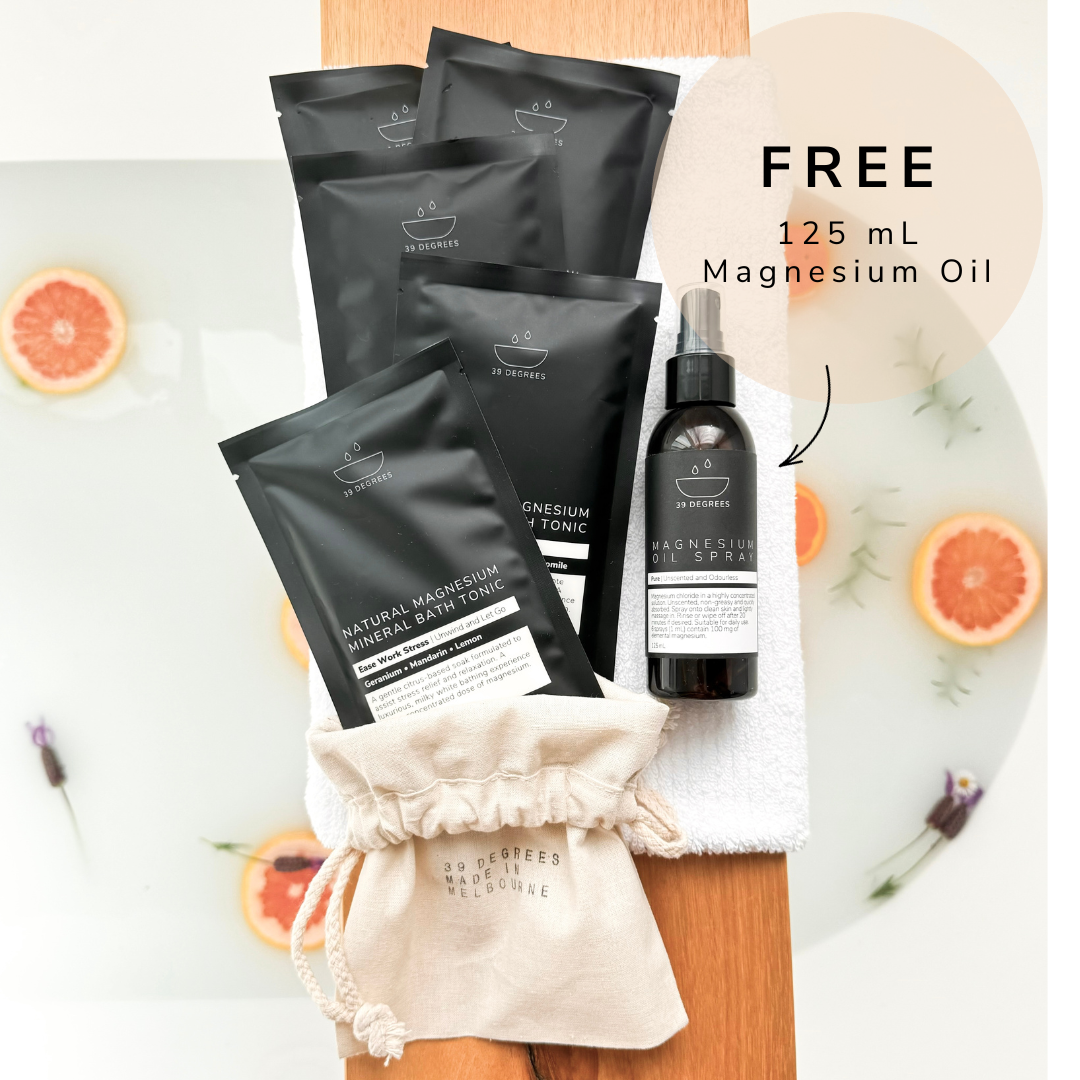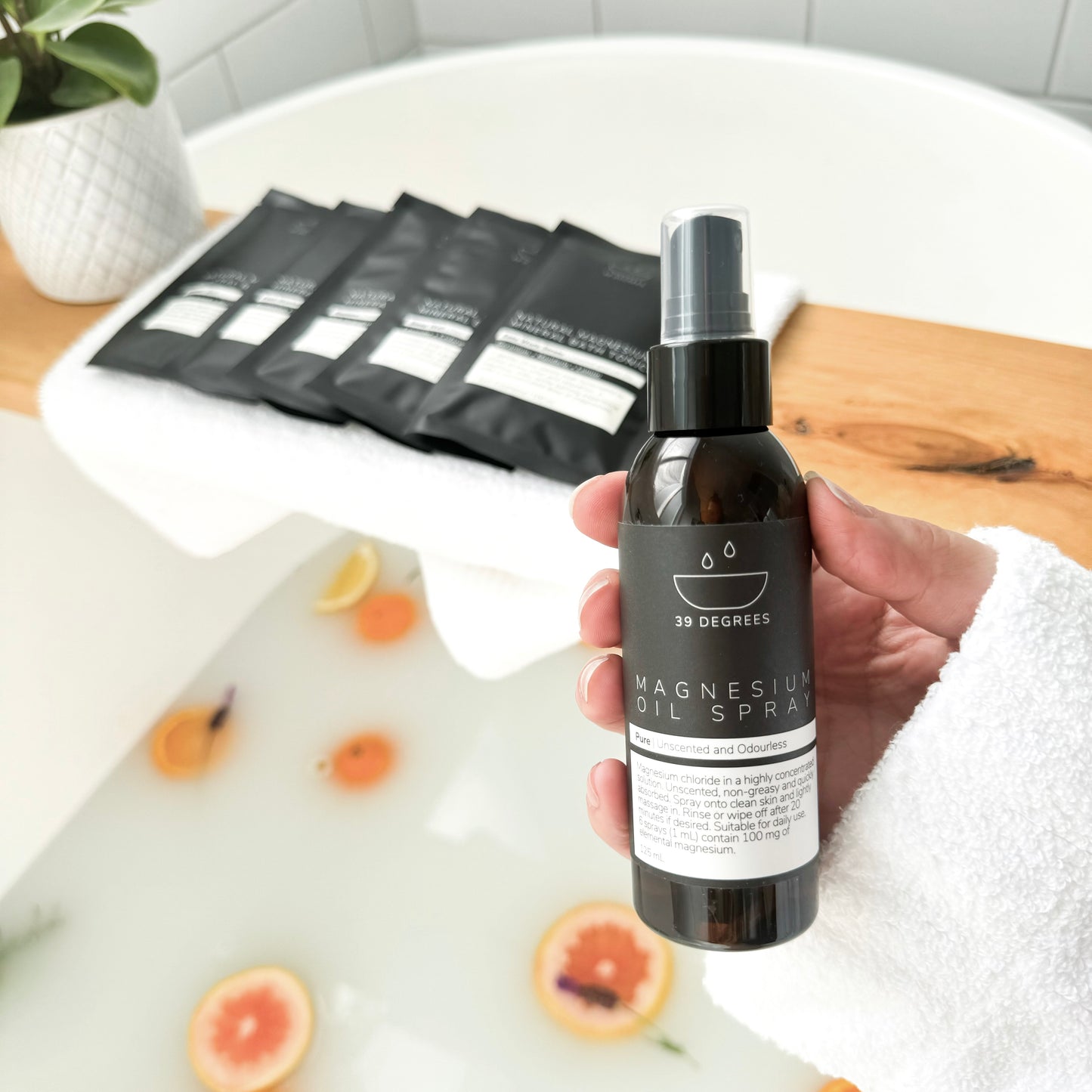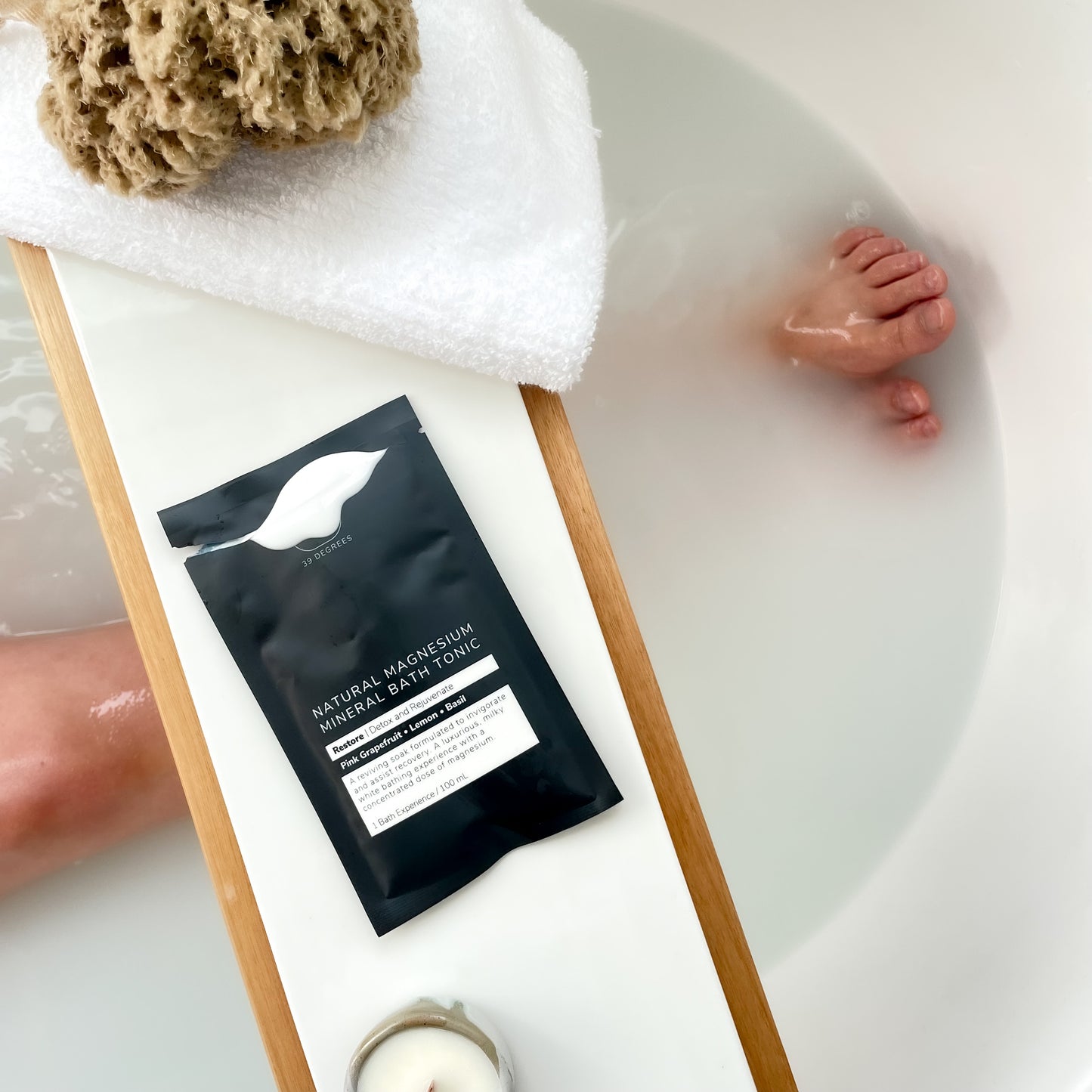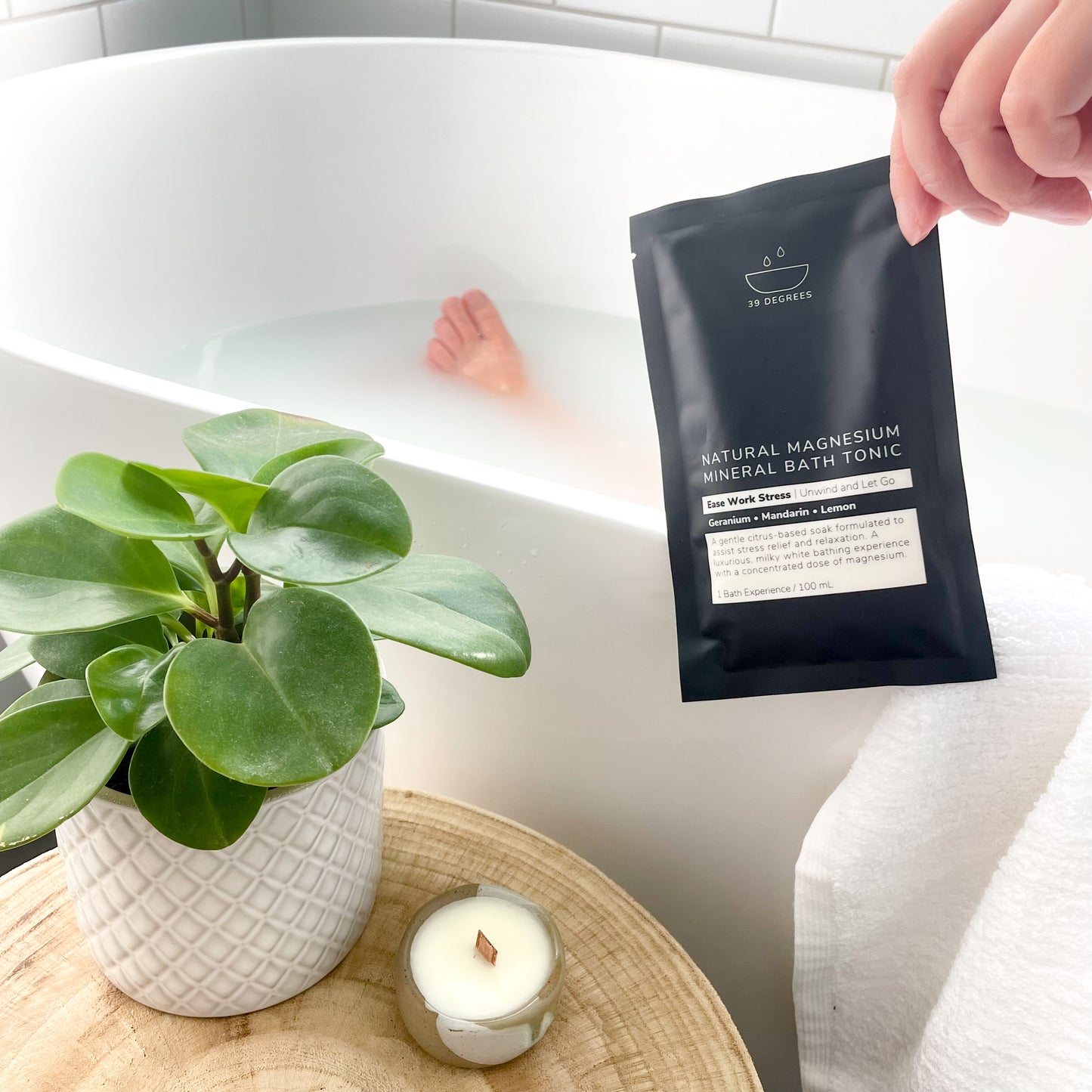 WHAT OUR CUSTOMERS ARE SAYING